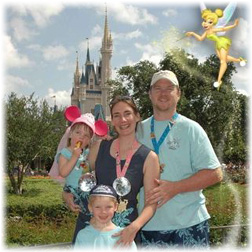 Our Most Recent Trip to see Mickey- April 2008!
Click here for the latest of Zach or Ainsley.
Happy Almost Halloween
10/21/08
Ok, so when I said a day or so I meant 3 years give or take. My bad. So what have we we been up to......... you got an hour or more? How about I give you the highlights. Its now fall of 2008 and we've been in Wake Forest, NC since Jan of 2007, almost 2 years now. I am 6 years old and "baby" ainsley just turned 4. We go to school together now at Poe Montesorri Elementary here in Raleigh where I am in the 1st grade and Ainsley is in Pre-K. We love it and we're such big kids that walk from the carpool drop-off all the way to our classrooms without Mommy or Daddy's help. We've been involved in tons of activities here in North Carolina in the past 2 years, I took tae kwon do and now play baseball and Ainsley is very involved in Ballet. She's had 4 recitals so far. We have 2 kitties, Pika, many of you know already, but this summer we added Tiger to our family. We found him wandering the golf course at Nanni & Poppops this summer (he was pretty beat up and without any tags). After he got the thumbs up from the vet on being all better we brought him back home to NC to meet Pika. They're still "getting to know each other".
Right now we're gearing up for Halloween and putting the finishing touches on our costumes. Ainsley is going to be Hannah Montana, she LOOOOOOOVES her, and I am going to be the Anakin Skywalker Lego Mini, combining two things that I love!.We'll get pics up soon.
Well, I need to go and get on daddy to get the pics up to date as well. Hopefully he'll have the time to make more regular updates for all MY fans.
-Z

12/15/05 Happy Holidays!!!
Working on an update!!

Hopefully in the next day or so. :)
-Z


3/9/05 - Spring is MARCHing in!
Spring, and a VIRUS, is in the air!!!


The holidays are over and spring is coming, but for now its FLU SEASON. And we as a family have "embraced" it whole heartedly. First Daddy had it mildly for a week or so, then Ainsley and I played ping-pong with an ear infection, then most recently Mommy got the flu bug in all its glory.
I think we're all back to health mostly so we can move on with spring. I had a little surgery along the way as well. Got those pesky tonsils and adenoids removed and now my "Ugula" has lots of room! I'm just finishing up week 2 of my soft foods diet and i'm not real happy. I've been enjoying the steady stream of freeze pops and ice cream, and all I have to do is look sad and say "My mouth hurts". Mom & Dad fall for it every time. Medically speaking the long term looks good for me though, my snoring should go away and my speech, especially those darn "SHHHH" sounds, should get better. But, I still love the ice cream!!!
Ainsley has been having quite a time too. She rolls all over at will and has started to get herself up on her elbows and knees. Mommy and Daddy keep telling people she should be crawling soon, and into my toys ARRRRRRGH!! Since my last update she has found her way into the crib and I think she really enjoys the space, she never wakes up anywhere near the position she goes to sleep. She also has started enjoying foods beyond her bottle. A big favorite are her Zwieback crackers, she loves to gum 'em all up. She's kinda clumsy and always drops them onto her tray, good thing I'm there usually to hand it back to her! She's also big into bananas and applesauce, Daddy says she inhales them...but I've only ever seen her put them in her mouth?!?
Well, life is pretty chaotic so I'm keeping it short. Talk to you all soon (hopefully with lots of SHHH words!!!)
-Z
12/8/04 Happy Holidays
Hope everyone is enjoying the season -


Whew, there is so much going on and so little time to write. We are in the midst of the holiday rush, Thanksgiving is over and Christmas is on its way. Let's see if I can cover it all.
Let me start with this, I love my baby sister! She is so much fun and I love helping Mommy & Daddy out by giving her stuffed animals and fetching her Binky when ever she drops it.( Which is often enough even to keep me on my toes). I'm on my best behavior pretty much all around to make sure I maintain my good standing on Santa's Naughty or Nice list. Gotta make sure the big guy has no reason to deliver coal! I am also a huge fan of Santa's Toy Shop.
In keeping with my manners and our "ladies first" approach...I'll tell you about Ainsley. At the ripe old age of 14 weeks she weighs between 13-14 pounds, still sleeps 6-8 hours at night with 1-2 interuptions, is STILL always wearing something pink and still has more hair than I do! She has the most beautiful little smile and loves to show it to anyone who smiles at her first. When she's not smiling she has a pensive little expression reminiscent of a Rodin Statue. She has become very good at holding up her head both when lying down and when being held, and can sleep just about anywhere. We did however go through a period there where there was no acceptable solution other than Mommy holding her, that didn't bode well when I wanted Mommy to play with ME!
I know I mentioned her moving into her cribby bed last time but that hasn't happened yet, and now she's even closer to filling up the bassinet. I think it's gonna happen here sometime before X-mas.
OK, chivalry done...NOW FOR ME...I do EVERYTHING and ANYTHING! and most times I want to do "By Myself". In fact, often, if you hand me something, I will put it back where it was then re-get it myself. I'm a Big Boy you know! I've become a very accomplished singer, In addition to "Puff" I now know many of "Laurie's" hits including "The Biggest Monster", "Moon, Moon, Moon" and "I'm Not Perfect". I also break into the "ABC" song quite often.
Happy Faces is wonderful and now Ainsley goes with me. She has to stay in the baby room with Ms. Betty but I can see her whenever I want. It's nice having her there, but pretty funny watching Mommy & Daddy scurry around in the morning getting everything ready and trying not to forget anything.
Oh, I almost forgot, Thanksgiving! It was a first for many things. It was Ainsley's first, our first Thanksgiving with my Aunt Tami & Uncle Joe from Indy and the Clevelands from N.C., we found out that my first cousin younger than me will be a girl, and a first Thanksgiving for everyone in Nanni & Poppop's new house in VA. YEAH! No traveling! We had a huge Turkey dinner with 16 people. That was A LOT of food. In fact we had Turkey re-runs for 4 days!!! Hmm-Hmm Good! We finish the Thanksgiving weekend by rolling right into Christmas, We put up the tree first with all the beautiful "Or-ma-nents" and lights, then, because the weather was so nice we put up all of our outside lights too. Our house looks great! Santa will surely be able to spot us from the air. Mommy keeps calling Daddy Clark Griswold.. but I don't get it??
Well, I gotta get back to concentrating on being a good boy for Santa, and trying to think of new things to help with my baby sis. Happy Holidays! & Merry Christmas!
-Z
10/29/04 Happy Halloween
Hello all --


So, Ainsley is 2 months and I think we should all probably expect updates from mom and dad no more frequently than quarterly!! I think we're really giving them a run for their money! I, of course, have all the energy of 3 adults and Ainsley, well, she's a baby...she's just not that independent!
The last 8 weeks have been pretty exicting around here! Aside from the obvious adjustments to having a new member in our family, we're in the throws of having my basement finished so that I can have a HUGE playroom. Mom didn't think that was enough craziness, so she decided to redecorate the whole first floor of our home! So, there's dust and mayhem in the basement; and paint, ladders, crown moulding, and art all over the main level! A circus I tell you!
So, I guess "ladies first"...I'll tell you what Ainsley is up to! She weighs 11 pounds, sleeps 6-8 hours at night, is ALWAYS wearing something pink and still has more hair than I do! She can roll over and coo, but still isn't so interested in painting with me or playing with my little people stuff! She smiles when I talk to her...and cries when I touch her eyes. Which I don't really understand...she should let me touch her eyes!! They are so shiny and bright! I like them. Oh well.
She is still sleeping in mommy and daddy's room in the bassinet but I think she'll be in her crib soon b/c her toes almost touch the bottom! Oh, and her toes...they're small! In fact, everything about her is small...Mommy keeps reminding me of that when I want to do, "OFF THE TOP ROPE" onto her! As small as she looks though, she's mapping nicely in the 50th percentile...perfect for a girl...you didn't want her to be a hoss did you!?!
NOW FOR ME...I'm great! I've been to the pumpkin patch with my playgroup pals, the fire station for fire safety week (I DROVE A FIRETRUCK), and to NEMO ON ICE!!! I learned that I love apple cider, dislike chili, and can lick the caramel off a caramel apple faster than mom can put it on! We also celebrated the 3rd annual Dominion Valley Day in the neighborhood and I played in a moon bounce, got my face painted, went on rides, rode a pony, and ate cotton candy as fast as they could bring it to me!
I still go to Happy Faces three days a week...and it's a lot more academic now! The lazy days of "summer camp" activities are behind us and we are learning letters, numbers, sharing, songs, and SPANISH! Spanish is not just for Dora anymore folks...I can rattle off some Spanish of my own now!
I've recently taken to singing...I know all the words (all three verses) of "Puff the Magic Dragon"! There's video...insist on seeing it next time you visit!
I'm not potty-trained yet, and I blame Mom! I think she's been victimized by marketing and doesn't know what to buy...big boy pants, "overnight diapers", pull ups, "feel-wet" pull ups, rubber pants, etc...it's just to overwhelming! But I assure you folks, I will NOT go to college in diapers!
The holiday season is fast approaching....in fact, just today I woke up, transformed into Shrek, and went to school. Some kids are just dressing up...but I AM ACTUALLY SHREK...seriously! So this weekend we'll trick or treat and do some fun things in the 'hood. Ainsley plans to be a ladybug...but we'll see if she can hack it!
That's it for now...next time we talk, my home will have been transformed yet again for the holidays and I will have been visited by the man in red...SANTA himself!
-Z
8/29/04 "Plus 1" Has Arrived!
Our new baby girl is here
Ainsley Elizabeth 6lbs 15oz !
See the "Ainsley" link at left..